MS Access Front-End Loader

When you distribute your MS Access Front End, you need to make sure everyone has the same version so this tool enables you to easily distribute your front-end by simply placing it in a Shared network folder. The user just needs a single icon that that runs StartApp and the configuration file takes care of the rest. It can even be configured to run on Citrix and RemoteApp.

Without this application your users will not always be up to date with the latest version and this can cause a huge administration headache.

The StartApp application is a .NET 4.0 C# window console application (with no interface) designed to control source and destination folders and files, as well as starting the required application upon completion of this task. StartApp practically eliminates the need to packaging and repackaging applications when a new release is to be pushed out. StartApp simply needs to exist on a shared network folder to which users have access. StartApp can be configured for any application, not just MS Access applications, however it was written with MS Access Front End applications in mind.

It does not matter what the backend data type is. It can be Access, SQL Server, Oracle, Excel or all combined.
StartApp can also be configured to run locally for offline applications as well as online at the same time!
StartApp is available for purchase directly from Dafran Inc. for $299 CAD . Includes the Attribute Changer application! You'll need this to ensure the Master files are newer than the client.
For more details, e-mail us at
StartApp
or call Toll Free on 1-403-606-2345. Ask us any question you like. We would be honored to advise with our expert knowledge of MS Access.
MS Access Front End Loader (StartApp) Workflow
This diagram shows the workflow and lists the configuration settings at the bottom.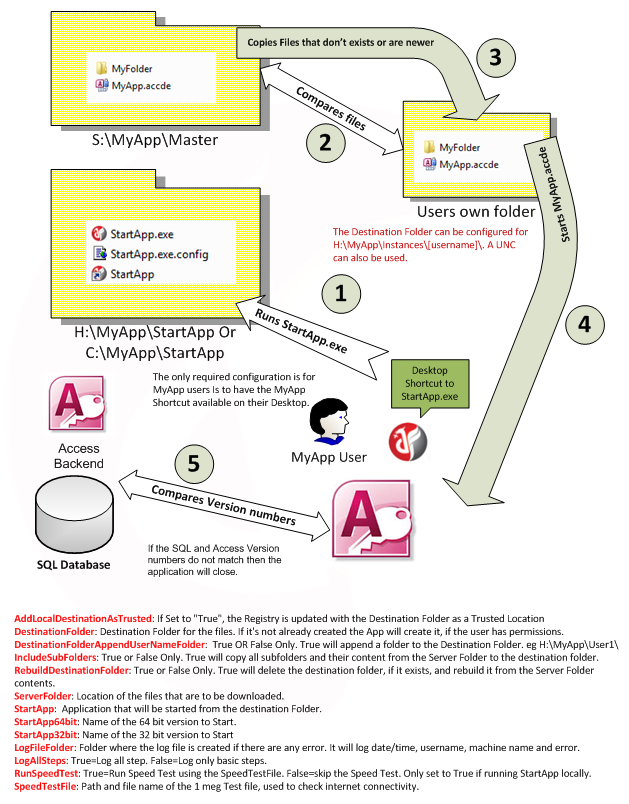 ---